The largest telecommunications company in Nigeria, MTN, and its main competitor, Airtel, recently embarked on a new business venture. They have successfully obtained highly sought-after fintech licenses known as a payment service bank (PSB) license, despite the substantial cost of over $12.8 million in licensing fees. It is worth noting that in 2020, 9mobile, another prominent Nigerian telecom provider, along with Hope PSB and Moneymaster PSB, became some of the first recipients of these licenses.

The PSB license represents one of the various types of banking licenses available for financial technology companies seeking authorization to operate within Nigeria under the supervision of the Central Bank of Nigeria (CBN). What distinguishes the PSB license from other banking licenses for fintech companies is its extensive reach, allowing licensees to conduct operations across the entire country. In contrast, most other licenses are subjected to geographical and structural limitations.

The CBN's most recent update on PSB licensing rules emphasizes the purpose of payment service banks, which is to facilitate high-volume, low-value transactions related to remittance services, micro-savings, and withdrawal services. These transactions are conducted within a secure, technology-driven environment to promote financial inclusion and work towards the policy objective of reducing the exclusion rate to 20% by the year 2020, as stated by the CBN.

Interestingly, it appears that MTN and Airtel strategically delayed their PSB license applications due to the introduction of the mobile money licensing framework. There were high expectations that the operational guidelines for mobile money would encompass a broader scope; however, these hopes were diminished when the guidelines were eventually released in July of this year. The mobile money guidelines significantly restricted the operational capabilities of licensees, particularly limiting mobile telecom operators such as MTN from engaging in substantial banking activities under this framework.

For a comprehensive understanding of the disparities between Nigeria's payment service bank and mobile money licenses, please refer to the table provided below. The table provides a concise summary of how the payment service bank design will practically operate.
| | | | |
| --- | --- | --- | --- |
| S/N | KEY REGULATORY REQUIREMENTS | PAYMENT SERVICE BANK LICENSE | MOBILE MONEY LICENSE |
| 1 | Can accept and hold deposits | YES | YES (mostly via mobile wallets) |
| 2 | Cross-border Remittance | YES ( including, inbound cross-border personal remittances) | NOT Specifically stated. Operationally improbable) |
| 3 | Deal in foreign exchange transactions | YES (only to the extent of sale of foreign currencies realized from inbound cross-border personal remittances to authorized foreign exchange dealers, only) | YES (only to the extent of sale of foreign currencies realized from inbound cross-border personal remittances to authorized foreign exchange dealers, only |
| 4 | Issue cards | YES | YES |
| 5 | Lending | NO | NO |
| 6 | ATM | YES | NOT Specifically stated (Operationally improbable) |
| 7 | Extent of participation allowed to telecommunications companies. | RESTRICTED from accepting payments from the public, apart from airtime billing. | ALLOWED (through their subsidiaries) to accept deposits from the members of the public. |
| 8 | Estimates of licensing fees | Over 5 billion naira ($12m) | Over 2 billion naira ($5m) |
| 9 | Geographical limitations | NATIONAL (provided not less than 25% financial service touch points in rural areas are set up) | NATIONAL |
| 10 | Use of network of agents permitted | YES | YES |
| 11 | Who may obtain the license? | i) Banking Agents; ii. Telecommunications companies (Telcos), through subsidiaries; 8 Classified as Confidential iii. Retail chains (supermarkets, downstream petroleum marketing companies); iv. Postal services providers and courier companies; v. Mobile Money Operators (MMOs that desire to convert to Payment Service Banks shall comply with the requirement of this Guideline); vi. Switching Companies; vii. Financial technology companies (Fintech); viii. Financial Holding Companies; and ix. Any other entity on the merit of its application subject to the approval of the CBN | Banks and corporate organisations |
| 12 | Primary Regulator | Central Bank of Nigeria | i) Central Bank of Nigeriaii) Nigerian Communications Commission |
Consequently, one might wonder what difference a payment service bank license will make. A payment service bank, classified as a new category of bank, operates on a smaller scale and abstains from credit risk and foreign exchange operations. In addition to offering current and savings accounts, payment service banks have the ability to provide payment and remittance services, issue debit and prepaid cards, deploy ATMs, and offer various other technology-enabled banking services. Essentially, they can be envisioned as simplified versions of traditional deposit money banks, focusing on the inclusion and support of marginalized populations.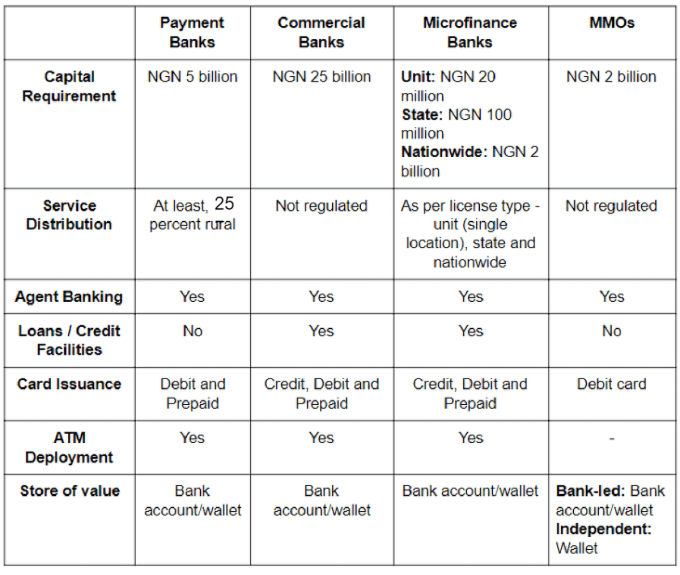 According to the regulations set forth by the Nigerian central bank, subsidiaries of mobile network operators (telcos), mobile money operators, retail chains (supermarkets), and banking agents are eligible to apply for the PSB license, provided they meet specific requirements. These prerequisites include a capital base of 5 billion naira ($12 million) and a combined application and license fee amounting to 2.5 million naira ($6,400), which are non-refundable.
The issuance of these new banking licenses to Nigeria's leading telcos follows the release of updated guidelines for the licensing and regulation of payment service banks by the CBN on August 27, 2020.

In terms of market share, MTN dominates the Nigerian telco market with over 74 million subscribers, followed closely by India's Airtel with more than 52 million users. Locally owned Glo boasts 52 million users as well, while 9mobile has a more modest user base of 12 million. Visaphone, which MTN acquired in 2015 to enhance its 4G capacity, has just over 137,000 users and represents the smallest player in the market.

Find the Guidelines for obtaining a Payment Service Bank license here.

For more enquiries, kindly contact us.
This article provides general information and should not be considered as legal advice. Consult a qualified attorney for advice specific to your situation. The content may not reflect the most current legal developments. No attorney-client relationship is created by reading this article. We do not guarantee the accuracy or completeness of the information and assume no liability for errors or omissions. Links to other websites are for convenience and do not imply endorsement. The views expressed are those of the author and not the firm. Examples are hypothetical and not guarantees. This disclaimer is subject to change without notice.
Payment Service Bank License Nigeria Payment Service Bank License Nigeria Payment Service Bank License Nigeria
Related Posts
In 2020, the Central Bank of Nigeria (CBN) introduced a new set of rules that affected fintech companies operating under a broad payment service license. The CBN released a circular stating that it had...